Project Delivery
All too often, IAM programmes fail to live up to their hype. The promise of bringing order to a disordered environment is often not achieved and the optimum benefits not derived. At Madigan Solutions we understand that these programmes of work have often mistakenly attempted to customise software to fit something for which it was not designed. This can often end up making things unnecessarily complex and difficult to resolve.
We can help you make the right decisions when it comes to building an Identity & Access Management capability. We have a proven breadth of experience in delivering small integrations for in-situ solutions right up to building brand new environments to replace existing legacy systems and processes.
Over the years, we have built a suite of packaged deliverables to accelerate delivery. Our packages cover a wide range of project deliverables such as project plans, supporting documentation, integration patterns, infrastructure-as-a-service artefacts, test packs or standardised reports.
We can also help you work out how mature your Identity & Access Management strategy is using the Madigan Road To Maturity model.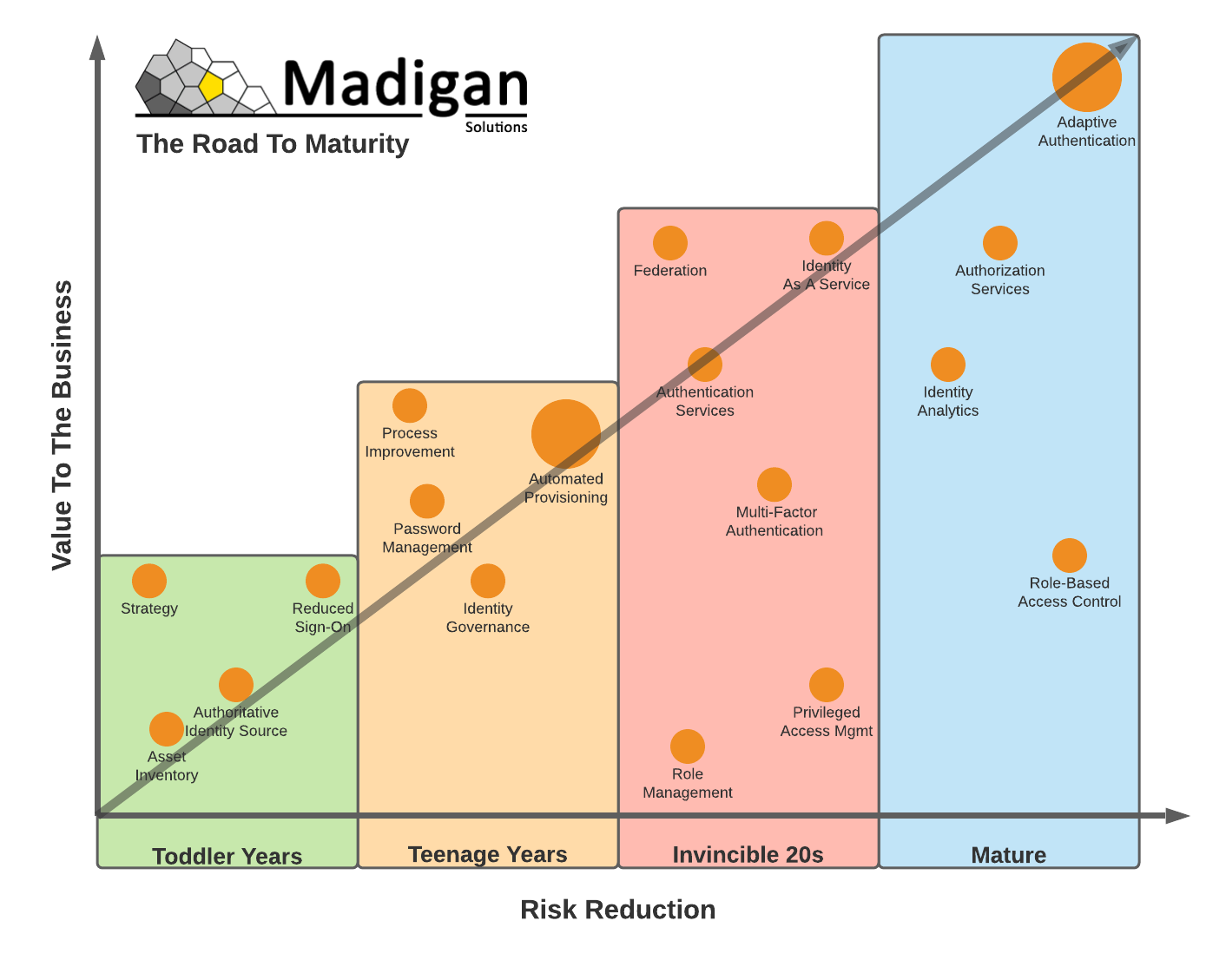 Contact Us to learn more.
---
PLATFORM SUPPORT
We understand that investing in people to manage a specialised suite of tools is an expensive operation. That's why we can provide you with the support you need for your current Identity & Access Management solutions. Whether they are on-premise or in the cloud, you can trust our support engineers to help you maximise your investment and provide you with a fully managed service offering.
Contact Us to learn more about how we can establish a support function that neatly integrates with your processes.
---
AS A SERVICE
Want to run your access management tier in the cloud? Fancy tagging "As-A-Service" on to your Identity Governance platform? We have the experience of helping businesses integrate their applications and processes with IDaaS platforms. We also have the experience of building, maintaining and managing bespoke IDaaS platforms based on a variety of technologies.
To learn more about how we can help you on your journey to the cloud, get in touch.