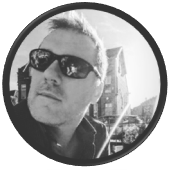 How To Plan Your Identity Journey
15 September, 2021, by Stephen Swann
We frequently get asked "where do we start with our identity journey?". That question presupposes that there is a beginning to the journey, and (crucially) there is a utopian destination.
The truth of the matter is that while there may be a journey, that utopian destination will probably never be reached. The ever changing attack vectors, legislation and audit requirements mean the goal-posts are forever shifting.
Talking to people in the IAM industry is always entertaining. Sometimes you meet someone who wants to talk about identity; sometimes it is someone who wants to talk about authentication/authorisation; and sometimes it is someone who wants to talk about privilege escalation. Identity (management), Access (management) & Privilege (management) aren't the only pillars that support an Identity & Access Management infrastructure though. We shouldn't forget about Directory Services; business processes (and people); and reporting.
That's quite a few pillars! And each pillar is made up of a variety of technical and non-technical components and while each is relatively independent, there is quite a significant amount of technology overlap.
All too quickly, an IAM programme of work can start to look like a tangled mess. Or the map of the London Underground!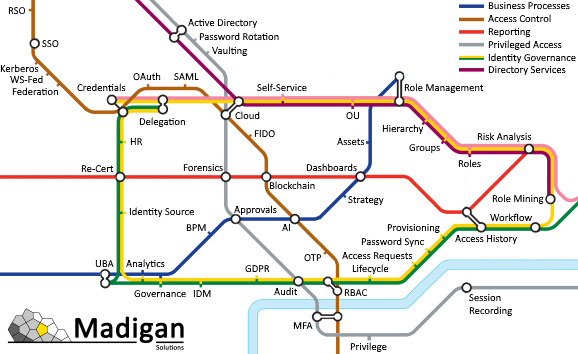 When travelling on the underground, you aren't obliged to start at one end of a line and stay on the tube right to the other end of the line. More often than not, you will bounce from one line to the other in order to reach your destination. Indeed, some of the tracks may reveal themselves as being rather circular with no defined destination at all.
It's much the same for an IAM programme of work. You don't have to visit all the "stations" on the access management track before visiting a station on the governance, reporting, or directory services track. In fact, staying on a single track and back-tracking to an intersecting station to have a go on another track may be inefficient.
Navigating around the IAM Underground could be rather tricky but we like to think of ourselves as navigational gurus at Madigan Solutions. It doesn't matter where you are currently located on the map above, we can help you visit all the major destinations in a direction that suits your needs - no matter how efficient or circuitous you need that journey to be.
So, get your IAM Underground Day Pass at the ready and let us guide you along your journey. We can't promise IAM Utopia but we can certainly help you plot a route in that general direction!
DISCLAIMER: The image attached is an artistic image and does not represent a sequence of IAM components in any direction whatsoever.